Wedding Decorations
Posted by Rosy Zheng on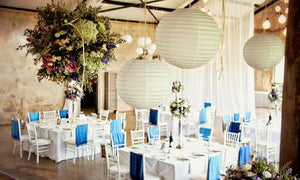 If you have a tight budget for your wedding, paper lanterns are an ideal choice. Round Chinese paper lanterns are available in a variety of colours and sizes and they are easy to assemble. As low as nearly $1 each they can décor your wedding space in half an hour's preparation. Also they can be folded and put away for your next event. No matter it's for country wedding, church wedding, small wedding, big wedding, chic wedding, rustic wedding, beach wedding or vintage wedding, paper lanterns can be your perfect choice. With led light in, they are gorgeous and amazing...
Posted by Rosy Zheng on
Catch that bouquet of flowers! It is always a thrill lining up in a pool of bachelorettes swarming to catch those bouquets thrown by the bride. Just being one of the audiences can be just as exciting. Tradition says that anyone who catches the bouquet would be the next bride. Flowers play an integral part in any wedding ceremonies. They have been a symbolism of new hope and a good future ahead. The bride and the groom would surely feel like heaven with flowers blooming everywhere on their reception. More than a decoration, wedding flowers have now been a tradition....
Posted by Rosy Zheng on
There are many couples that get engaged around the holidays. Many of these engagements happen on Christmas Eve or Christmas Day. To remember that special time, some like to plan their wedding around the same day the next year. Christmas weddings are very special and can always create a great memory for the couple and for their family. When it comes to favors, one great idea is to have a Christmas ornament wedding favor for everyone who comes. This type of favor is great because people can hang these on their trees year after year and will remember your wedding....
Posted by Rosy Zheng on
Today we're talking about something that is near and dear to my heart- hiring professionals for your wedding. One would think that hiring professionals would be a no-brainer, but this isn't always true. Sometimes you just want to spend as little as possible, and so you resort to trying to find "alternatives" for the usual wedding services. And some of these "alternatives" usually end up involving having a friend or family member do something instead of hiring a professional. In fact, there are even wedding planning sites out there that will tell you to not hire professionals in order to save money. Well friends, that is...
Posted by Rosy Zheng on
If you are unfamiliar with speaking in public, then creating a speech can be quite daunting. With this thought, I've prepared a couple of important guidelines to help you overcome your anxiety and generate a wedding day speech. 1. Remember this type of person in your corner. They aren't privately wishing you'll mess some misconception. The main reason you're there giving an address happens because you're associated with the folks there, and they are the crowd. Keeping this in mind, you are able to be assured that whatever you say inside your speech is going to be took in to...
---